Life Style
Trending
You Won't even Mind the Weather With These Winter Outfit Ideas
Here's my opinion: Winter is adorable in principle, but not so great in practice. Of course, dazzling lights and snow showers are lovely but don't forget about the bitter cold and slick ice. Few things are more inconvenient than getting dressed on a chilly winter morning, and it's tempting to fall back on the same outfit you've been wearing all season: a black sweater, black trousers, black boots, and a parka. I understand that when it's cold outside, fashion is pushed aside in favour of warmth. But I'm here to show you that even when the temperature drops below zero, you can still look trendy. Here are a few clothing ideas to get you ready for the cold weather.
Elevated Basics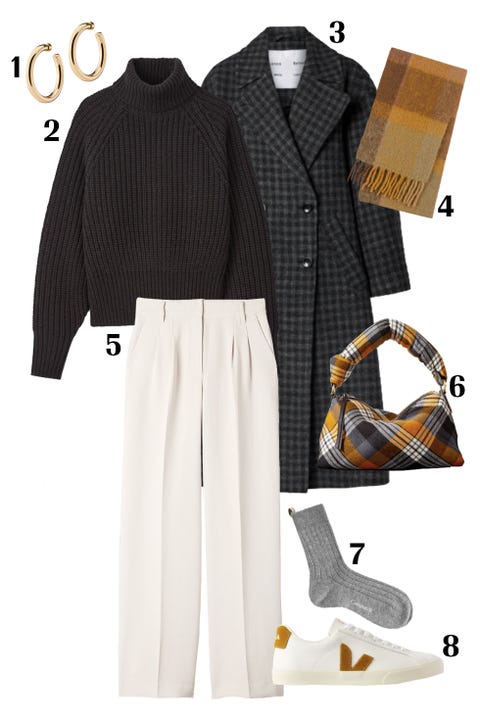 The key to this design is to combine high and low. For an overall luxurious appearance, pair high-end pieces like this Proenza Schouler coat with more cheap pieces like this Uniqlo sweater and these Artizia jeans.
Mad About Plaid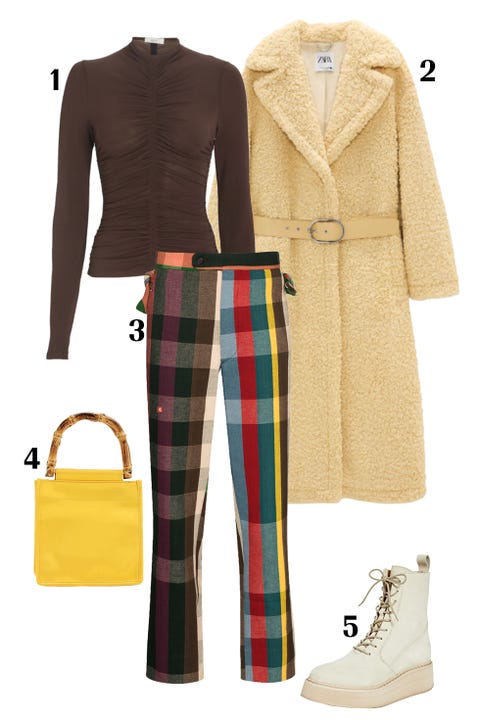 Plaid is a classic winter print, although it's frequently limited to the red/black variant. To liven things up a little, use plaid in an odd colour.
Not Your Typical Holiday Party Look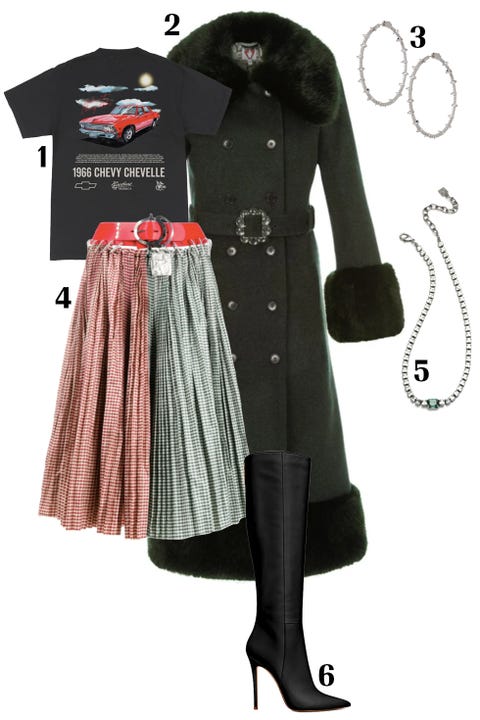 Even if you don't want to wear a glittery dress to your holiday party, you may still appear merry. Wear red and green in a stylish manner to get in the mood. With a formal green blazer and some glittering diamonds, elevate a gingham skirt and graphic t-shirt.
Simply Chic
A clean and basic dress has a certain elegance to it. With a nice knit and some winter white pants, you can't go wrong. Finish your ensemble with traditional accessories such as a fantastic belt, lace-up boots, and gold hoops. Try a stylish chainmail purse to add a little bit more to your plain appearance.
It-Girl Approved
It-girls love the North Face 1996 Retro Puffer Jacket (Emily Ratajkowski and Kendall Jenner both own this jacket in various colorways). Not only does it have the cool-girl stamp of approval, but it's also rather warm. Combine the puffer with fake leather slacks and a white bodysuit for a "cool chick" look. Finish your ensemble with some fashionable accessories like an LV pochette, Prada derby shoes, and a baseball hat, like Kendall and EmRata do.
A Night Out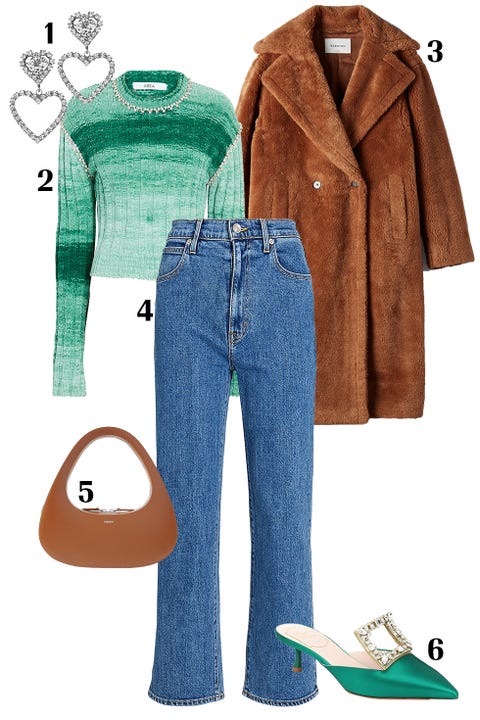 Do you find it difficult to get out of bed in the winter? Try to come up with a nice midnight dress that goes with the weather. This is when an embroidered sweater comes to the rescue (or night, I should say). The crystal decorations elevate this sweater to the next level, making it suitable for a night out. Add a set of crystal earrings and a pair of green mules to complete the look. A teddy bear coat is a timeless classic that is both warm and fashionable.
Layered Lady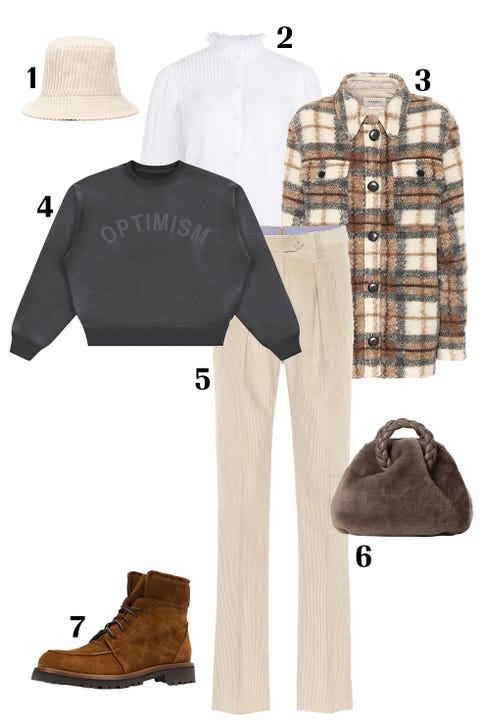 If a huge puffer isn't your thing, layering is a great way to stay warm. For added warmth, start with a checked wool jacket and match it with a sweater. If the style is too macho, add a feminine touch with a ruffled high-neck blouse. Try a pair of corduroy pants for the bottom half; the thick fabric is ideal for really cold days. For a winter touch, add a matching bucket hat, suede lace-up boots, and a furry purse.
Not Your Basic Black Puffer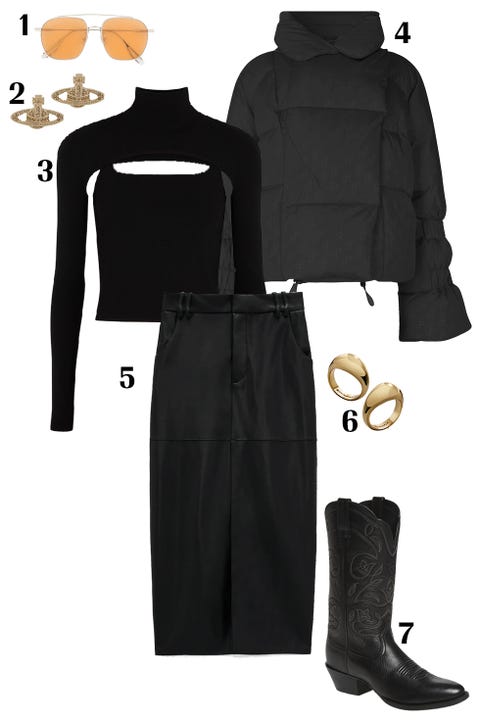 Pair this oversized puffer with a sleek black leather midi skirt and a cutaway knit to play with proportions. Add a pair of cowboy boots for a unique twist, or switch to heeled boots for a midnight transition. Add some colour to your ensemble with orange-lens sunglasses and Vivienne Westwood stud earrings, a cool-girl favourite.
On Trend Outerwear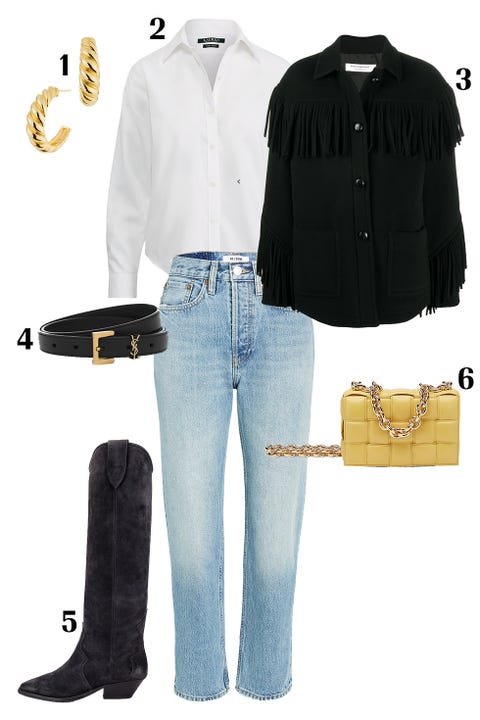 Wear some fringe to join in on one of the season's greatest trends. This wool mix shirt jacket is the perfect weight for my girls who reside in moderate climates. Pair the jacket with jeans and a simple white blouse to highlight the jacket.