Life Style
Trending
Rehnaa Hai Terre Dil Mein celebrates its 20th anniversary
It's been 20 years since Rehnaa Hai Terre Dil Mein was launched. The Dia Mirza, R Madhavan, and Saif Ali Khan film embraced all of Bollywood's negative stereotypes, such as stalking and abusive behaviour.
Reena, Dia Mirza's character in Rehnaa Hai Terre Dil Mein, finds herself in an unusual situation. She must pick between two men: Maddy (R Madhavan), who pursued her for five days and purported to be her fiancé, as well as breaking into her fiance's house and threatening his parents, and her true fiancé (Saif Ali Khan), a calm, cool-headed man whom she hardly knows.
Reena chooses Maddy above the rest of us, despite the fact that the option is obvious to the rest of us. "Tumhari harkatein mujhe hasati hain," she says sheepishly at the airport at the end of the movie, clothed in wedding finery (Your antics make me laugh). It's unclear whether the element of Reena's stalking and thuggish behaviour made her giggle, but it did — enough for her to decide she wanted to spend the rest of her life with him.
It's been 20 years since the release of Rehnaa Hai Terre Dil Mein. It was a Hindi adaptation of the Tamil film Minnale, in which Madhavan, Abbas, and Reema featured. While Minnale was a financial triumph and received critical acclaim, Rehna Hai Terre Dil Mein did not have the same success at the box office at first but went on to become a cult classic. Aside from the cast members and perhaps a song or two, the storylines are identical in both films: A man falls in love with a girl, at first sight, follows her, pretends to be her fiancé, and in the end, the girl chooses him. This is the early 2000s, so a notion like this isn't all that shocking, given that David Dhawan's flicks, in which a lady attempts to win her unfaithful husband back, or when a man's hand tingles to make an improper move on a woman, were well-received.
Rehnaa Hai Terre Dil Mein and Minnale were most likely viewed as heartfelt romantic comedies in which a guy will go to any length to get the love of his life. For years, Bollywood has normalized this stereotype and has struggled to break free from its misogynistic comfort zone. Dia has already acknowledged that the picture was misogynistic. "Sexist cinema was being written, thought about, and made, and I was a part of it… There is sexism in Rehnaa Hai Terre Dil Mein… These were the folks with whom I was collaborating. I was collaborating with these individuals. It's insane, Maddy really threatens Reena in Rehnaa Hai Terre Dil Mein, saying, "Paanch din, main tera kuch bhi kar sakta tha, aur tum mana nahin karti (5 days, I might have had my way with you, and you wouldn't have said no)." Reena, who is crying, tells him she would never see him again, only to change her mind at the wedding mandap. What's more amusing is that the film struggled to elicit sympathy from the audience for Maddy, who sits and sobs by the water with his gangster pals. Women are a curse for him, and his heart has been crushed. During the last airport scene, Saif's Rajeev tells Maddy, "You could have broken my face that day, but you didn't." And by marrying Reena, I could have crushed your heart, but I didn't." When did smashing someone's face in a parking lot become the benchmark for determining a person's magnanimity? It is, however, in the RHTDM-Verse.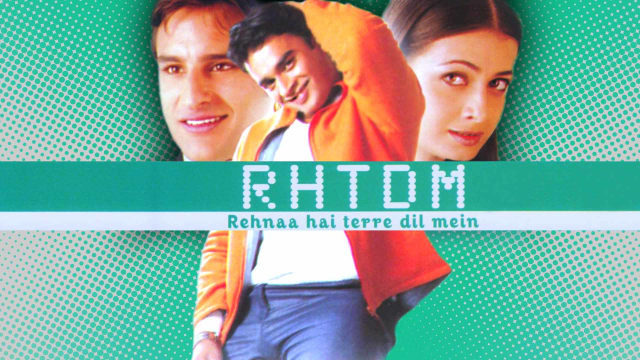 Would the audience have enjoyed RHTDM if it had been released today, 20 years later? The ideal response is obviously no, because Bollywood has been extensively scrutinized and debated for promoting stalking, abuse, and the practice of reducing the woman's position to that of a prize for the male to nab. However, the solution to the question is not that straightforward. While there has been a notable heroic effort to reject the poisonous clichés of the 1990s, many Bollywood directors continue to use the same themes in ostensibly different situations, with the same end consequence. For example, in Shahid Kapoor's 2019 adaptation of Arjun Reddy, Kabir Singh, the lady was treated as if she were a piece of property while the hero raged on in a violent haze, and then suffered a tepid atonement to be accepted by the woman at the conclusion of the film. On all social media sites, Kabir Singh witnessed wrath and fury, and the actor's Shahid and Kiara Advani defended it to the skies, attempting to explain the 'angry, rebellious' male image.
Today, Rehna Hai Terre Dil Mein is considered a "cult classic." Indeed, it is a watershed moment in a long line of bad films that have promoted all of the toxic romantic clichés throughout the years.